Registration is an exciting time for us and an exciting time for our parents and prospective families as well! We know parents have a lot of questions when trying to find the perfect school for their child. Here are some of the most common questions we are asked:
Kids Village Registration FAQs:
What Times are School?
Half-Day Mornings are 9:00 a.m. – 11:30 a.m.
Half-Day Afternoons are 12:30 p.m. – 3:00 p.m.
Full Days are 9:00 a.m. to 3:00 p.m. (available only for Kindercarrot and Grade School)
*Each class opens for drop-off 15 minutes prior to school beginning and closes after pickup 15 minutes after school ending.
What do you Teach and What Days are they Available?
Please refer to the schedule below.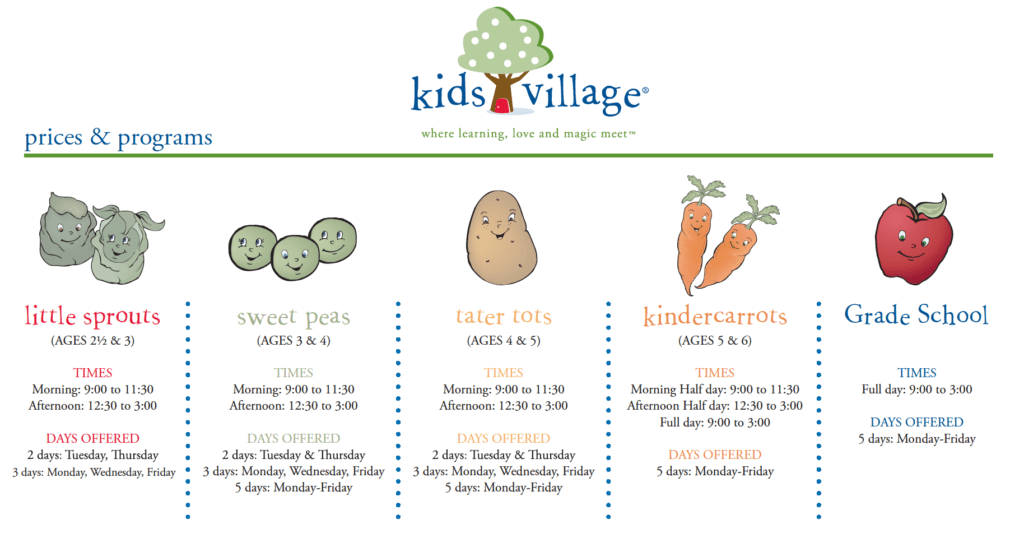 How does drop-off and pick-up work?
Kids Village private school encourages you to use our Valet Service where you drive around to the back entrance of the school and a Kids Village helper will escort your child to and from your car. You may drop your child up to 15 minutes prior to your class beginning and up to 15 minutes after your student's class ends
Please read this article for full details:
How much does it cost?
The price of Kids Village preschool and kindergarten depends on how many days a week your child attends and whether he or she is in full-days or half-days. Please call or stop by Kids Village for pricing.
How Quickly Does Kids Village Fill Up?
Kids Village has been voted the Best Private Preschool in Utah in 2017 and fills very quickly. Some of our programs fill up within days of registration opening to the public. We always open registration in January. If you are not a current student, we suggest following us on Facebook and Instagram for the most up-to-date notification on when registration opens.
How Do I Register for Kids Village?
To register, you must fill out a registration form and pay a small registration fee. The registration form may be downloaded here. You may pay the registration fee in-person or over the phone.
*tip: our school phones get very busy around registration time — we recommend coming in to our front office to register.
My Child is Advanced for His/Her Age — Will My Child be Bored?
One of the beautiful and most sought after attributes of Kids Village is the way it engages children regardless of their skill level. Because of our small class size, each child gets individual attention during lessons which allows our teachers to make adjustments based on your child's current development. In addition to the small class sizes, we also break up traditional learning subjects with Kids Village workshops. Kids Village's workshops means that beyond traditional topics such as reading, writing, and math, children also engage in a variety of workshops that help teach them a variety of skills they can use for the rest of their lives such as cooking and nutrition, music and drama, physical education, music, science, geography, foreign language, history, art, technology, and more.
Does My Child Have to be Potty Trained?
Kids Village does not require your child to be potty trained. We simply ask you to leave us with a cell number where you can be reached if your child needs to be changed. Unfortunately, because we are not a daycare facility we cannot perform any diaper changing services. Keep us updated on the progress you are making with potty training as we are happy to help encourage your child with their efforts and remind them to use the restroom throughout the day.
What Reading Program do you Use?
We base our reading and writing curriculum on the proven Saxon Early Learning curriculum and the Saxon Math and Phonics curriculum. For over 30 years, Saxon curriculum has been one of the top three rated math and phonics programs in the nation (http://www.hmhco.com).
The Saxon philosophy is to introduce information incrementally, building new concepts upon old ones and constantly reviewing to build a solid foundation for developing new ideas. This means children learn in a way that maximizes understanding and long-term retention.
Read more about our curriculum here:
Do you have any more questions about Kids Village? Let us know in the comments below or by emailing [email protected]