In early education, children are building foundations that will determine their later success in all areas of life. Every aspect of Kids Village is conscientiously designed to develop a basis for learning, growth, interaction, knowledge, and confidence that will empower our students for the rest of their lives.
Below you'll find 12 reasons Kids Village was voted the best early childhood educator in the state.
ATMOSPHERE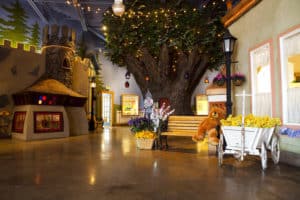 No school in Utah can compare with the enchanting environment at Kids Village. Upon entering the school's doors, children find themselves transported to a magical storybook village of quaint workshops and cobblestone streets. The village symbolizes the world in which we live where each individual has unique gifts and talents. At Kids Village, the variety of workshops and classrooms give each child an opportunity to explore and discover their natural talents while expanding lifelong skills.
Twelve bright and spacious classrooms surround a life-sized oak tree that holds special significance to the students, parents, and teachers of Kids Village. This tree represents life, knowledge, and growth. It reminds us to never underestimate the potential that each child, an acorn in the forest of our community, has for growth and success. It helps us keep in mind that even at such a young age, the children of our school are developing firmly planted roots that will guide them to become capable, confident, hardworking and intelligent young adults. This oak tree serves as a daily reminder that each child, no matter how small, has within them a greatness that will one day be a force for good and growth within our community and the lives of others.
OUTSTANDING CURRICULUM
Even though we are proud of our aesthetics, it is our academics that truly set us apart from other schools in Utah. Our curriculum is thoughtfully designed to maximize lifelong learning in our students. We base our curriculum on the proven Saxon Early Learning curriculum and the Saxon Math and Phonics curriculum. For over 30 years, Saxon curriculum has been one of the top three rated math and phonics programs in the nation (http://www.hmhco.com).
The Saxon philosophy is to introduce information incrementally, building new concepts upon old ones and constantly reviewing to build a solid foundation for developing new ideas. This means that children learn in a way that maximizes understanding and long-term retention.
Along with the Saxon philosophy, each of our lessons is taught using our very own Kids Village teaching method that utilizes all 5 senses in a hands-on setting. This allows each child to learn in his or her own way and exposes them to the curriculum in multiple forms to create more connections between the new material and the world around them. This style of learning also helps to foster genuine curiosity, which translates into a passion for learning.
TOP-RATED TEACHERS
Experience and credentials are what make our teachers stand apart from educators at other schools. Every academic teacher has on average 20 years of experience and each holds a degree in early childhood, elementary, or secondary education. Teachers also receive monthly training for professional development, one-on-one personal management meetings to keep them updated on the most recent techniques and strategies for their classrooms, and compensation for continuing education.
Teachers are part of a whole new educational environment at Kids Village where instead of focusing on bulletin boards, room setup, copies, and lesson plan design, they get to focus on what they do best:  teaching our students. Team member loyalty and retention are extremely high at Kids Village due to an engaging and positive work environment, flexible work schedules, performance incentives, excellent pay, retirement benefits, and more.
UNIQUE WORKSHOP CLASSROOMS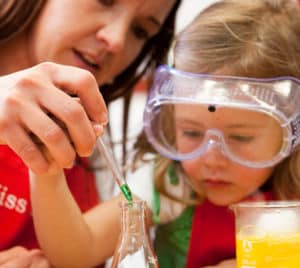 Students at Kids Village receive education in subjects that are often overlooked in traditional schools, but that are vital in nurturing each child's talents and interests. During each school day, students rotate between academic classrooms where they learn phonics and math concepts, to 8 workshop classrooms that teach discovery and exploration in reading, science, technology, arts and crafts, history and foreign language, lifelong fitness, music and drama, as well as cooking and nutrition. Participating in each of these workshops not only provides each student with valuable life skills, but also arms them with the courage to try new things in their daily life.
Every workshop experience reinforces an academic concept by implementing the Saxon principles of incremental learning where each new concept builds upon the previous lesson. It also establishes long-term learning and real-life application by exploring the lesson with all five senses.
STATE-OF-THE-ART TECHNOLOGY
Children are exposed to technology every day and are learning how to utilize it faster than ever. We decided to make a conscientious effort to reinforce technology as a learning tool and resource to show how technology can be used as more than just recreation. We create a safe, protected environment in our state-of-the-art computer lab to teach our children the basics of using technology in responsible and thoughtful ways.
HISTORY, PATRIOTISM, AND CULTURE
It's hard to keep hearts from melting when our 3-year-old Little Sprouts recite the Pledge of Allegiance. Not only do they take pride in pronouncing big words and phrases like "republic," "indivisible," and "justice for all," but they are also learning gratitude for our country and our service people.
Our history lessons include teaching respect for our flag and the history behind the stars and stripes, learning about the great patriots who declared independence and established a Constitution, and paying tribute to the local police officers and fire fighters who risk their lives to keep our communities safe.
We also teach our students to appreciate the lives and cultures of others by forming friendships with students in other countries through letters and by learning about other cultures' traditions, food, and history. We engage all of our students in learning several foreign languages by teaching greetings, colors, numbers, and more in multiple languages.
HEALTHY LIVES
–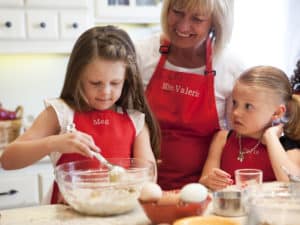 While most educators are in agreement that physical activity is an integral part of a well-rounded education, Kids Village takes it a step further by engaging our students in activities that promote lifelong fitness and encourage students to get moving outdoors. Not only do our children participate in onsite activities year-round, but we also offer a winter ski school at Sundance that contributes to the foundation of an active lifestyle while developing confidence that translates into academics and all other areas of life.
Besides our fitness program, Kids Village also teaches our students the importance of healthy eating through our cooking and nutrition workshops. These workshops are hands-on and teach our students how to use whole, unprocessed ingredients to make healthy meals and snacks. They help to instill habits and knowledge that will help students make healthy choices for the rest of their lives.
VALUES
– At Kids Village, we understand that we're not just teaching children academics that will translate into careers; we are teaching lifelong lessons that will help shape the responsible, happy, caring citizens of tomorrow. That is why we feel it's important to integrate values into our curriculum.
Every month we highlight a new value that helps our students become more responsible and caring members of the community. This value is explored as the final piece of each school day in a short lesson, story, or by role playing. Each child receives a colorful wristband at the end of the month after demonstrating mastery of this value to positively reinforce the application of the value in day-to-day situations.
One example of a monthly value is "Friendship and Self-Control." By teaching self-control, kids are able to respond thoughtfully in stressful situations in order to make more positive decisions. To encourage more conscientious friendship, students are encouraged to start conversations that focus on others, play games and be gracious winners or losers, work in pairs to encourage one-on-one interaction, learn to resolve conflict by compromising, show interest in others, and practice sharing.
RED APRONS
– While we didn't choose to enforce school uniforms at Kids Village, we do give each child a red apron with their name embroidered on it to wear throughout the school year. The purpose of this apron is to create a sense of belonging, invoke power in name recognition, and to help each child feel comfortable getting messy during hand-on activities that immerse our children in learning. Our teachers also wear the signature red apron to identify themselves as part of the Kids Village community.
SAFETY
– Kids Village takes the safety of our students very seriously. We have developed an innovative "valet service" drop-off and pick-up system that gets an A+ rating from our parents for ease, safety, and children's comfort. Parents drive to a convenient drop-off location where each child is greeted by a familiar Kids Village staff member, helped from the vehicle, and escorted to their classroom. At the end of the school day, children are called to the pick-up area as their parents arrive, and are personally loaded into their properly identified vehicle.
Our safety and security measures also include security cameras in every classroom and throughout the school. A secure entrance and exit ensures that only properly identified individuals enter the school and that children cannot walk out unattended. Our emergency parental notification system is state-of-the-art and our emergency evacuation plan is reviewed and updated regularly.
TUTORING
– Kids Village is committed to the individual success of each of our students. We provide one-on-one tutoring developed specifically around each student's needs with the goal of expanding academic confidence and turning weaknesses into strengths. This tutoring program is accommodating to parents' schedules so every Kids Village student has the opportunity to extend his or her skills and talents through this program.
SUMMER LEARNING TIME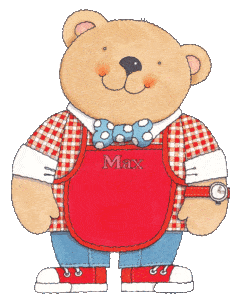 During the summer, Kids Village is actively engaged in promoting fun, fresh and innovative activities that reinforce concepts presented during the school year and teach children to be actively engaged during the summer.
Our summer program is unveiled in the first week of May by our Mascot, Max the Bear. This program contains a variety of activities that encourage family togetherness, stretch the mind, and challenge students to discover different places in Utah to keep them actively learning with all five senses. This summer program is an important part of our education as it empowers our students to implement the lessons and values of Kids Village in real world situations.
SUPERIOR RESULTS
– Our extensive waiting list and testimonials are proof that Kids Village is making a difference in the lives of children in our community. Here are Kids Village reviews from parents, grandparents and community leaders have to say about our innovative approach to education:
"This place is unbelievable! It's one of those rare experiences when your expectations are exceeded over and over. I can't say enough how much this school has done for my kids in terms of love of learning, personal growth, and emotional stability. The teachers are fantastic, the class sizes are ideal, and the curriculum is nothing but the best. My kids get personal attention in every aspect, and as a parent, I get 100% support as well. The staff is so flexible and accommodating, besides being genuinely invested in the kids themselves…they use Saxon for math and phonics, and I am frequently impressed at how logically and methodically this publisher teaches. (My own skills are increasing because I'm finally seeing how things fit together.)" Jenelle H.
"We currently have all four of our children attending Kids Village and we could not be happier. If you are looking for a quality private school for your children in preschool to 3rd grade, look no further. I promise you will not be disappointed." Anjella H.
"Kids Village is without a doubt the best private school in Utah! Finally a school putting FUN back into learning! Our children get to learn in a fun, loving, safe environment with a caring staff that you will not find anywhere else. Hands down, best private school in Utah!" A.H.
"Kids Village has been changing lives for twelve years. My sixteen year old was asked her favorite teacher so far in school – she replied, 'Miss Valerie, my Tater Tot teacher at Kids Village.'" Marjan O.
"Aside from the excellent curriculum Kids Village provides, we also love all the hands-on workshops they get to attend. Not only are my children performing above grade level, but they also get to enjoy classes like cooking, computers, science lab, art and music." Eloiza A.
"The best part of Kids Village is the reaction I get from telling people that ask me which preschool I chose for my son; every single person has had nothing but GREAT things to say about this school, from people they know that have kids there, to the staff that work there, to wishing that their kids could be in that school. Worth every penny." Jason A.