Here at Kids Village, you know we like to emphasize health and nutrition, but you probably also know that we believe there is balance in everything! After all, childhood just isn't childhood without the occasional smell of freshly-baked cookies.
When Ann Whittaker, the founder and President of Kids Village brought in a double-batch of these gooey, soft, delicious goodies, we just had to share the love.
This kid-friendly peanut butter chocolate chip cookie recipe is simple, fun, and perfect for a fun family baking adventure in the kitchen.
Let your kids help you make these the next time you're craving a sweet treat; you'll love the way your child's eyes light up when they see (and taste) the results of their hard work. We'd know – we get to cook and bake alongside these sweet kids in our cooking workshop every week!
This is a kid-friendly recipe, which means the steps are easy, the mess is minimal, and the results are deeeelicious. Can you tell we've done this before?
While a lot of cookie recipes have steps to cream the butter and sugar together, sift the dry ingredients, and fold in the chocolate chips, this recipe is NOT like that. That's because, as kid experts, we know that kids like to get right to the dumping and stirring, and parents like as few dirty dishes as possible. So instead, this recipe calls for all the ingredients to be poured into one big bowl and stirred together all at the same time.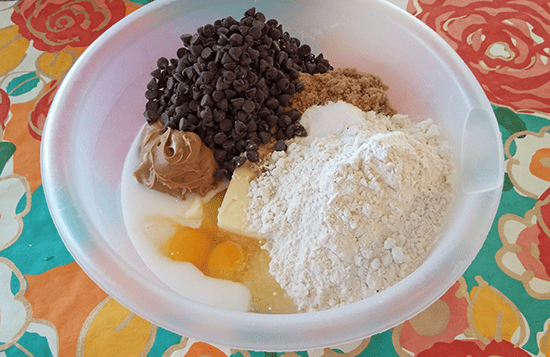 Your dough will have about the consistency of playdough, which means it won't be sticky, gloopy, or messy (if it is, add a little extra flour). This consistency is intentional since it means your child gets to help you roll the dough into 1-inch balls, then roll the dough in a bowl of sugar for a sweet, crunchy outer layer.
This sugar is so fun on the outside of the cookie not only because your kid will love dunking the dough into a little white hill of sugar before helping put it on the cookie sheet, but also because it creates a thin, crisp layer on the outside of the cookie that pairs perfectly with the soft, gooey center.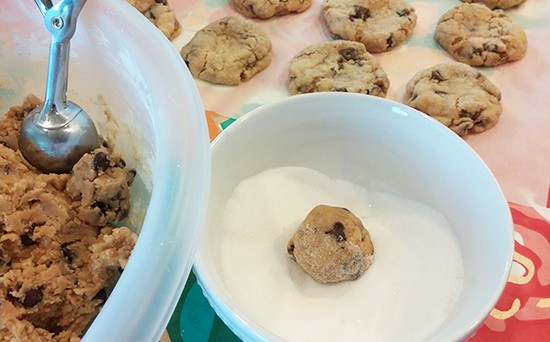 These cookies are baked on an ungreased cookie sheet lined with parchment paper. This helps your cookies maintain their shape (for a more gooey center), lets you slip the paper off the cookie sheet once you take it out of the oven (so the bottoms don't brown) and makes cleanup a breeze.
The cookies bake quickly, taking only 8-10 minutes in a 375 degree oven. Don't overbake them or they will spread too much and you'll lose the fun, delicious gooey center. For the best texture, take them out right when the dough is no longer shiny but hasn't yet started to brown.
You'll notice the cookies maintain their ball shapes, so immediately after you remove them from the oven, have your child help you use the back of a spoon to smoosh them down a little.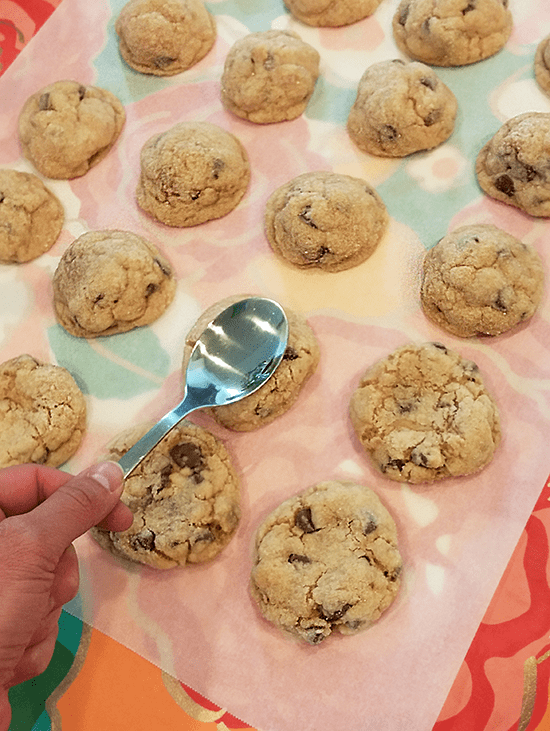 The cookies are delicious straight from the oven or after they've cooled, and (since the batch is so big) you can freeze the extras and thaw them when you're ready for a treat. You can also freeze the sugar-rolled balls of dough for later — you can bake them straight from the freezer, you'll just have to add a few extra minutes to the baking time.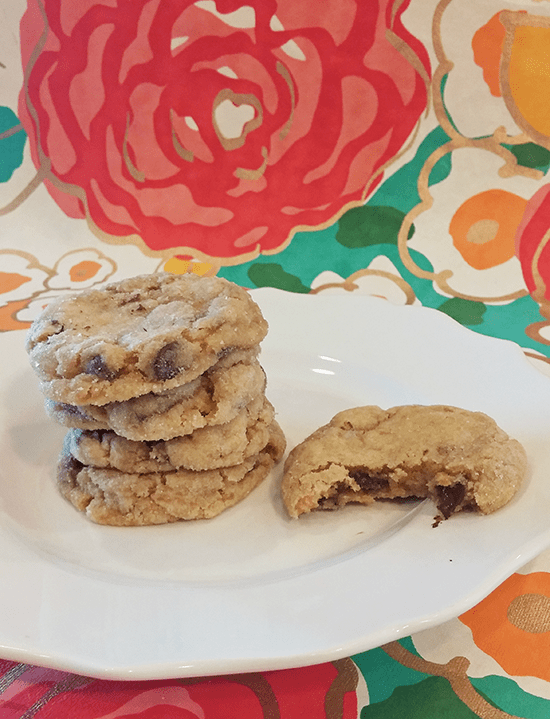 | | |
| --- | --- |
| | |
Preheat oven to 375 degrees Fahrenheit.

Mix all ingredients together by hand.

Roll dough into 1-inch balls and roll in sugar before placing on an ungreased cookie sheet lined with parchment paper.

Bake for 8-10 minutes, until dough is no longer shiny and top has not yet begun to brown.

Immediately slip parchment paper and cookies off cookie sheet, then use the back of a spoon to gently smoosh the centers down.